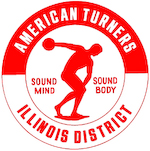 Turner Camp Open Pickleball Tournament
When- September 15-16, 2018
Where- Illinois Turner Camp (1 N. River Road, Algonquin IL 60102)
Cost- $25 dollars for first event, $5 dollars for second; Cash or checks made payable to Illinois Turner Camp.
Skill Levels- 3.0, 3.5, 4.0+ (3.5 and 4.0 to be combined if we get a 4.5+ field of 6 or more teams) (Tournament director has right to merge levels if need be)
Events- Men's & Women's Doubles (15th), Mixed Doubles (16th)
Tournament Ball- Onix Fuse 3.0-4.0, DuraFast 40 for 4.5+ field
Format- Round robin games to 11 win by 2, playoffs will be either one game to 15 or best 2/3 to 11. We want to make sure everyone gets as many games as possible!
We will have snacks available for everyone, we will also have food for sale such as hot dogs, burgers, chips, sports drinks
Contact Michael Sullivan to register, please include your level and name of your partner. Text me at 312-405-4134, or email me at Sullivan092296@gmail.com
Start times to be announced 5-7 days prior to the tournament
Looking forward to seeing all of you!